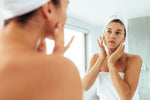 Skincare 101: How to Use Retinol to Get the Best Results
In the world of skincare, retinol is hailed as a necessary part of the daily routine. But for those in the beginning stages of a better facial care routine, you might be asking, "What is retinol for?" Retinol activates the regenerative properties of your cells. When used correctly, it fights a number of skin-related issues. With regular use over time, you will see an improvement in:
Fine lines

Skin texture and tone

Smaller pores

Lessening of acne/ blackheads

Higher collagen production
Retinol, also known as Vitamin A, is a naturally occurring nutrient extracted from foods and plants. One of the most effective ingredients in skincare, retinol is also the most misused. If used improperly, you risk causing red, itchy, dry skin. Results and reactions vary, depending on the strength of your retinol and how often you use it.   
Professionals recommend that anyone over the age of 25 start using a retinol product to keep skin healthy and help maintain a youthful glow. Here are a couple of tips on how to get the best results from your retinol products. 
Take Baby Steps
First-time retinol users should ease it into their routine. Start with using a 1% or less retinol serum. You should also be able to use a serum specially formulated to be less irritating to more sensitive skin. 
At first, only use the retinol serum once or twice a week. Give it a few weeks to see how your skin reacts. You might have to tough out a few days of itchy redness. If the itchiness lasts longer than that, you need a more diluted serum.
If no irritation appears or lingers after the first few weeks, you can gradually increase your frequency of use. Once your skin has adjusted to the new schedule, you can consider a serum with a higher retinol percentage. 
The higher the retinol percentage in your serum, the faster you are going to get results. Do not rush into the stronger serums at the risk of irritating the sensitive skin of your face. Ease into the higher doses and stop at your current percentage when you see results you like. 
How to Apply
Most people who are new to more involved facial care are unsure how to use retinol in their daily routine. There is a specific order that products should be applied to ensure you are receiving the best benefits from each one. 
Double cleanse

- make sure to remove makeup and all pollutants, then cleanse again with a gentle wash that will eliminate remaining impurities and excess oil.

Apply retinol-

gently apply directly to the skin, with no other products layered between. It is most effective when nothing is blocking the retinol from soaking into the skin. 

Let soak in

- leave the serum on your face for at least 20 minutes. Take a break to brush your teeth or take down your hair, but whatever you do, let the retinol completely absorb into the skin before applying anything else. 

Moisturize-

a rich moisturizing cream at night will nourish your skin and combat the risk of redness and irritation from the retinol. Always moisturize after applying retinol; putting it on top of a product reduces its effectiveness. 
Extra Tips
There are a couple of things to note before incorporating retinol into your skincare regimen. Retinol breaks down when exposed to the sun. This can make your skin more sensitive to the sun's rays, so it is best to apply the serum at night only. If you do use it during the day, use a sun lotion with an SPF of 30 or stronger. 
A little goes a long way. You don't need to use more than a pea-sized drop to cover your whole face. It doesn't look like it will cover much, but it will treat your entire face just fine. 
You can combine retinol with other products to boost its benefits. Facial care creams and serums that have alpha-hydroxy acids, niacinamide, or vitamin C combined with Retinol help boost skin cell rejuvenation, reduce breakouts, and encourage vibrant healthy skin. 
Skin Moderne has a plant-based alternative to retinoids called Bio-Retinol. The beauty of this product is that it keeps all the benefits of retinol without the degradation or irritation that comes with a traditional retinol product. Visit our website to find out more about our clean skincare products, designed to nourish and protect your skin.