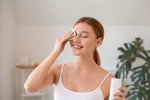 Makeup Removers for Sensitive Skin: What Are the Must-Have Ingredients?
Whether you are enjoying a night out, keeping up with your beauty foundation routine, or about to hit the stage, you make sure the makeup you choose is kind to your sensitive skin. If you are staying mindful of your makeup, why not give your makeup remover the same attention? How we remove our makeup is just as important as how we apply it, because some removers could have strong ingredients that will clash with your skin. So, what are some of the must-have ingredients for your skin?
Because sensitive skin can respond to strong alcohols or products that dry you out, you will want something that moisturizes and soothes. When looking for the best makeup remover for sensitive skin, your three goals should be to find products that:
Moisturize and hydrate your skin 

Possess anti-inflammatory properties to avoid flare ups

Integrate antioxidative ingredients to provide anti-viral benefits
Moisturize
We could be applying makeup or washing it away, but both makeup and soaps can strip important oils and healthy bacteria from our skin. These oils keep us from developing cuts, wrinkles, fine lines, and itchy skin. Ingredients like tea tree leaf oil, argania spinosa kernel oil, and jojoba seed oil are all natural moisturizers that will gently pump up your skin with plenty of hydration and protection. Many of these oils also possess anti-inflammatory and antioxidative qualities to keep your skin protected. 
Anti-Inflammatory
If you have sensitive skin you are no stranger to red flare ups or irritation, so you will want to stay on the lookout for ingredients such as aloe vera, eyebright plant, and rosa canina flower extract. Many of these ingredients possess anti-acne agents, and can even exfoliate and condition your skin, all while helping you avoid swelling, redness, and stinging irritation.
AntiOxidant
You and your skin have worked hard by picking out the right makeup and engineering the perfect skincare routine. While antioxidants are great at naturally revitalizing your skin, they can also calm your skin and help it recover. Think about it like a mini "spa" for your skin as you are cleaning away your makeup. Ingredients like squalane, honey, orange peel oil, and grapevine oil are excellent antioxidants. Many of them, especially squalane, are rich with emollient benefits and can purify and radiate your skin, and also offer anti-viral properties to keep you protected.
Dermatologists Know Best
Before you start picking out the right products for your skin, be sure to consult your dermatologist to avoid any reactions during your skincare routine. Everyone has different skin, even sensitive skin varies from person to person, so while something like cucumber oil may work for someone's sensitive skin, it could cause an allergic reaction for others. Certain products can also be harmful if you're under a treatment plan and are using certain topical skin medications. Your skincare for sensitive skin should help you put your best face forward, so make sure you consult before you commit.
A Sense of Sensitivity 
Knowing what works with--or even against--your sensitivity can have such an incredible impact on how you care for, manage, and pamper your skin. No matter what your skin type, we always try to have something for everyone to enjoy. But when it comes to your sensitive skin, you deserve something soothing and compatible for your unique type. In fact, several of the ingredients you read about in this article are available in our smoothie blend that offers a soothing, mild cleansing experience. Nutrient dense plant oils will cleanse and nurture your skin at the same time. Nothing beats a good smoothie, so treat yourself (and your sensitive skin) today!