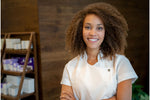 NanoFusion: What Is It and How it Can Advance Your Business
As an esthetician, you pride yourself on providing your clients top-of-the-line beauty treatments. So if you haven't added NanoFusion to your list of services yet, now is the time. NanoFusion is a state-of-the-art face treatment that will give your clients their best results yet. It will also help you grow your business.
Let's dive into what NanoFusion is, what the benefits are, and how it can advance your business.
What Is NanoFusion?
NanoFusion is a cosmetic skin permeation technology that improves penetration and efficacy of targeted skincare solutions.
NanoFusion utilizes the NanoPen, a patented hand-held ergonomic device. The NanoPen is an entirely new technology. Its disposable tip contains pyramid-like microstructures made from pharmaceutical-grade mono-crystalline silicon.
During treatment, the NanoPen is moved over the treatment area, creating controlled micro-injuries that stimulate the skin's natural healing cycle. The name NanoFusion comes from the fact that these micro-injuries are incredibly small, or "nano," channels that go into the epidermis. This stimulates collagen growth, which creates healthier, younger-looking skin.
NanoFusion has many benefits, including reducing the appearance of wrinkles, fine lines, pigmentation, acne scars, and sunspots. It also improves the penetration and efficacy of targeted skincare solutions. In addition, NanoFusion provides luminosity to the skin and boosts the absorption and efficacy of active solutions.
What Makes NanoFusion Stand Out? 
There are many skin rejuvenation technologies on the market. Nano Fusion stands out as an exceptional treatment for face and other areas because of its precise, customizable approach and its safe, non-irritating nature.  
The NanoPen gives estheticians a new level of precision in administering collagen-stimulating treatment. Because the channels created by the NanoPen are so small, estheticians can target each small area exactly as they wish. The NanoPen also has three different speeds. This allows the esthetician to choose the precise speed that is best for the client's skin.
The NanoPen is also safe and non-irritating. The microchannels it creates do not cause bleeding or discomfort before or after treatment. And because the NanoPen's tip is disposable, there is no risk of infection. 
Best of all, NanoFusion requires minimal patient downtime. The nanochannels the procedure creates close on their own in approximately 15 minutes. Clients can start seeing noticeable results almost immediately. Dramatic improvements in skin texture and luminosity will be evidence after 2 to 3 treatment sessions. 
NanoFusion is an effective treatment on its own. But if other active ingredients are applied immediately afterward, such as enzymatic and peel treatments, NanoFusion ensures they will be absorbed deeply and efficiently.
How NanoFusion Can Advance Your Business 
NanoFusion allows you to give your clients their best skin yet. Existing clients who have tried other treatments with discomfort and side effects will be thrilled to get better results with no downside. And new clients who see the results NanoFusion generates will be eager to try it, especially because the treatment is highly affordable. 
NanoFusion is highly beneficial to all skin types. It can be used not only on the face but on the neck, décolleté, hands, and body. In other words, any client can benefit from NanoFusion treatment. Once clients see the results, they may well start treating other areas of their bodies, too.  
As an esthetician, you can rest assured that NanoFusion treatment is safe. The treatment's safety and proven results have been published in the American Journal of Medicine. 
Bringing NanoFusion into your business allows you to provide an unparalleled treatment service to your clients. It will give them beautiful skin while allowing you to expand and advance your business. It's truly a win for everyone.