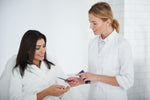 Estheticians: 5 Reasons Why Clean Skin Care is Better for Your Clients
Good quality, clean skincare is not about following the latest trends but is about providing clients with effective, healthy, science-backed products. But if it's not just about chasing the trendiest slogans, what draws clients to clean care routines? What makes it so important that when the latest natural trend blows over, clean beauty will be here to stay? 
The simple answer is that clean skincare is better for you and your clients. Healthier skin, healthier you, is what it breaks down to. It expands beyond personal care to caring for the world around you as well. Let's take a look at a few benefits in better detail. 
Well-researched and Effective
A clean cosmetic or skincare company worth buying from will have an entire section of the company dedicated to developing new research. A team of doctors and scientists that focus on making sure their products are safe, both personally and environmentally, and effective makes all the difference in a product. Making products compatible with the human body, or bioavailable, should be the priority.
When a product is backed by research, it has a better chance of being effective. Scientists and doctors look for nutrients and ingredients that provide what your skin needs on a cellular level. In-depth care will always be more effective than a product that is surface-level only. 
Conscientious 
In many cases, clean skincare comes hand in hand with vegan and cruelty-free skincare. The goal of clean beauty products is to use ingredients that reduce the risk of skin irritation, and vegan products are less likely to cause a reaction. This will appeal to clients looking for no animal byproducts in their skincare. Also, recommending a cruelty-free brand avoids any moral dilemmas about animal testing.
When looking for the most trustworthy brands, check where the money is going. Companies working with the Environmental Working Group or the National Institutes of Environmental Health Science are more likely to be interested in making sure their products are safe and effective for their users. 
More Moisturized
Many mainstream moisturizing products such as lip balm, conditioner, and skin lotion contain desiccants. A desiccant is a drying agent that actually works against the purpose of the product, leaving skin, hair, and lips just as dry as before, if not more so. 
Sulfates are the drying agents in most skin products, and clean care products are entirely sulfate-free. A skincare routine, without the moisture-sucking ingredients, allows the skin to absorb the moisture it needs to be soft and healthy. Most brands promise these results, but responsible clean care brands are more likely to deliver on that promise. 
For example, at Skin Moderne, we offer quality clean skin care products like the Moisture Infusion serum to prevent and treat dry skin. 
Fewer Toxins and Irritants
The main reason people are beginning to ask for clean care products is to avoid common toxins and irritants present in most mainstream and drugstore brands. Synthesized fragrances, formaldehyde, and other toxins are known causes of contact dermatitis. All of these are present in most skin and beauty products.
Other ingredients are potential endocrine disruptors and carcinogens, none of which people should be encouraged to smear on their skin every day. Clean skincare and beauty products remove all potentially harmful ingredients. The best clean products will make sure every ingredient is compatible with the human body and recognizable by consumers. 
For clients with sensitive skin, we highly recommend using Skin Moderne's PACIFI serum. 
Look Your Best and Feel It, Too
As an esthetician, you know that the skin is the body's first line of defense. When you take care of your client's skin, you are taking care of the whole body. If the skin is not healthy, it leaves a person vulnerable to bacteria and environmental extremes. 
In the end, it comes down to healthier skin, healthier you. What a person puts on their skin matters. Focusing on using the best ingredients for skin focuses on taking the best possible care of the whole body. 
Find the best products for you and your clients at Skin Moderne. Bio-available, vegan, and cruelty-free, Skin Moderne is a product you can provide, confident that you are offering clean, high-quality products. To learn more about us, contact us online or call us with your questions at (559) 967-0950.