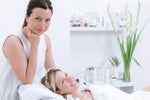 Estheticians: 5 Ways Nanofusion Technology Improves the Skin
Nanofusion is a groundbreaking facial nano technology. Unlike microneedling, Nanofusion is a non-invasive skin permeation device. It is designed to improve the penetration and efficiency of skincare solutions in targeted areas.  
The microscopic medical-grade silicone pyramids on the tip of the tool are much smaller than conventional micro-needles. They create minuscule channels, called micropores, into the skin without drawing blood or risking infection. This facial tool allows better product absorption into a deeper layer of the epidermis. 
Delivering targeted skincare solutions allows clients to see a vast improvement within the first 24 hours of use and much more dramatic results after two or three treatments. Skin absorbs between two and ten percent of what is applied topically, but when products are applied with Nanofusion, it absorbs anywhere from forty to fifty percent of the product. 
Because of this improved efficiency, nanofusion can be utilized to deliver an array of serums and ingredients to treat specific skin conditions. This produces faster, longer lasting results that can been seen from the very first treatment.  Let's take a look at five of the ways nanofusion technology improves skin. 
Decrease Fine Lines and Wrinkles
Nanofusion is a great tool to use for decreasing signs of aging, such as fine lines and wrinkles. The tool encourages rejuvenation by stimulating collagen growth. Collagen is the frame that keeps skin nice and firm. As you age, your body produces less of it. Stimulating collagen growth helps skin keep firm and youthful, reducing the fine lines and wrinkles of damaged, aging skin.  
Smooth Skin Texture
Skin texture is an ongoing battle for most esthetician's clients. Scars and aging leave the skin uneven and it only gets worse as the body's collagen production slows down. The nanofusion facial tool helps solve the problem by stimulating faster cell turnover. It encourages the skin to create new cells faster replacing old and dying ones. This allows fresh healthy cells to come in where scarring and uneven skin texture was before, smoothing it out. 
Treat and Diminish Acne 
For those who struggle with acne, the nanofusion tool allows a more intense treatment of the afflicted skin. Alpha and beta hydroxy acids can be applied deep into the epidermis to fight irritation and inflammation while unclogging and shrinking pores. This also serves to lighten and brighten the skin, smoothing out the tone, with no redness. Clients will enjoy smooth and clear skin without having to resort to oral medications or long-term topical creams.
Target Hyperpigmentation and Dark Spots 
Hyperpigmentation and dark spots truly benefit from nanofusion's improved spot targeting. With nanofusion facial tools, serums with ingredients like vitamin C, niacinamide, and various other nutrients can deeply penetrate specific pigmented areas. This allows the discoloration to fade at a faster pace, giving the skin a smooth flawless tone. 
Promote Luminous Skin 
All of the treatments to lighten, brighten, and remove blemishes and redness encourage a luminous glow in the skin. Smaller pores and lush, smooth skin tone are the signs of healthy, rejuvenated skin. The nanofusion technology allows estheticians to combine custom serums specifically formulated to target each client's needs, giving them the youthful glow they have always wanted. 
Skin Moderne's nanofusion facial tool combines advanced penetration with vibration and massage properties to amplify healing and stimulate collagen synthesis. Rejuvenate your client's skin with ten to twenty-minute sessions that will leave them looking better than ever. 
If you have questions about nanotechnology or are interested in adding the Nanofusion Pro Pen tool to your collection, email us today at help@skinmoderne.com. Visit our website to learn more about our featured products.