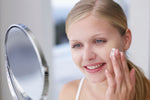 Best Skincare Ingredients to Treat Sensitive Skin
Finding the best way to take care of your face is already a little confusing, but when it comes to skincare for sensitive skin, it can get a lot more difficult. Locating products that don't immediately make your face feel like it's on fire or cause more issues than they fix becomes highly complicated. 
Your face will thank you for not using the trial and error method, so where do you begin when looking for a new product? It is all about knowing the right ingredients to soothe and fight inflammation. Some ingredients, like retinol, are great for normal skin but wreak havoc on sensitive faces. The goal is to use products that will ease inflammation while taking good care of your skin. Let's take a look at some of the ingredients you should be looking for when it comes to skin sensitivity.
Aloe 
Aloe is nature's perfect little bundle of vitamins, minerals, antioxidants, and enzymes. Its anti-inflammatory properties calm itchy, inflamed skin, and deliver soothing moisture without any harsh, irritating substances. Aloe can combat acne as well as fade dark spots and acne scars, all without upsetting the delicate balance of your face.
Shea Butter
Another ingredient known for soothing reactive skin is shea butter, a naturally occurring moisturizer from the seed of a shea tree. Shea butter provides a soothing layer of protection that helps flaky and cracked skin heal smoothly. It is also anti-inflammatory and great for treating acne.  
Rose 
Not just for smelling fancy, rose is an antioxidant-rich ingredient that soothes and revitalizes sensitive skin. It increases the moisture retention of cells and eases irritated skin with its anti-inflammatory properties. Rose is also known to help fight dull skin and protect from pollutants.  
Packed with Aloe, shea butter, and rosehip oil, Skin Moderne's

Moisture Infusion

packs a triple punch against dry skin while soothing itch and irritation. 
Calendula
Often mistaken for a weed, calendula is yet another flower known for its anti-inflammatory properties. The little orange flower has a unique combination of antioxidants that is very hard to reproduce synthetically. The product of this flower is great for treating the irritation caused by dermatitis and eczema and has been used to help speed up the healing process of scars and wounds, even on sensitive skin. 
The

Phyto Fusion Smoothie

by Skin Moderne is a nourishing cream with both calendula and rose as well as a host of other rejuvenating nutrients for the skin. 
Vitamin C
Vitamin C is an ingredient that requires balance, as too much will irritate sensitive skin but just a little bit is the perfect antioxidant to protect it. It encourages collagen production and brightens the complexion, even in lower doses. Higher percentages of Vitamin C can be unstable and degrade over time, so just a small amount in your serums and creams is the perfect amount, especially for sensitive skin. 
Skin Moderne's

C Fusion

is a vitamin C blend that has just the right amount of vitamin C without being too strong and irritating to sensitive skin. 
When it comes to skin sensitivity, using clean skincare and toxin-free products is the best choice. Synthetic chemicals and unnecessary add-ins irritate delicate skin, exacerbating any problems you might be struggling with. Skin Moderne understands the need to take the utmost care of delicate, easily irritated skin. In addition to our entire line of clean skincare products, Skin Moderne has products specifically designed to treat sensitive skin with the care and consideration it deserves. Visit our website to find out about our products and learn more about Skin Moderne.