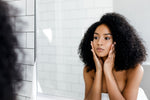 How to Achieve Glass Skin with Bio-Placenta Skin Care Products
Glass skincare is a multi-step routine meant to achieve a smooth, even skin tone with a dewy luster. It makes your skin look younger and feel healthier, but being faced with a routine that requires several steps and a large number of products can be daunting. 
Can you attain the smooth as glass luster, without an endless amount of bottles and tubes cluttering your bathroom shelves? Actually, yes, you can. A simpler routine still requires care and consistency, but you don't have to have a shelf stuffed with products to achieve beautiful skin. 
With Bio-Placenta skincare, you can combine several steps and still achieve delicate glass-like skin. Let's take a look at the steps and what kind of products you need.
Step 1: Cleanse
Like with any good work of art, you must start with a blank canvas. Use a makeup remover to strip away makeup, dirt, and other impurities. Don't stop there, though. To attain complete cleanliness, use a gentle cleanser to exfoliate the skin and clean the pores without stripping away moisture. 
Double cleansing is highly recommended for both your morning and night routines. If you struggle with sensitive skin, use your cleanser in the morning and only double cleanse at night. This will help reduce irritation.
Step 2: Toner, Essence, Serum
Here is where you can combine a few steps. Toner helps balance the pH of your skin, as well as removing more dirt from the pores. You have already double cleansed, so you don't need to worry about impurities remaining on your skin. Essence is usually a hyaluronic acid, used to help imbue skin with moisture. Serums contain all the lovely vitamins as well as skin rejuvenating and collagen-producing ingredients. 
Bio-Placenta covers all three of these steps. It moisturizes, balances, and provides your skin with a wealth of nutrients necessary to keep that healthy glow. Not only that, but it also protects the skin from environmental stress, and is one of the best serums for anti-aging Skin Moderne has to offer. 
Step 3: Moisturizer 
Bio-Placenta skin care provides a large amount of the moisture and nutrients necessary to achieve glass skin. Adding an extra moisturizer on top of that takes it one step further.
Look for a lightweight product that won't clog pores and feel dense on the skin like a heavier moisturizer will. Check the ingredients, you want it packed with antioxidants and botanical extracts, to heal and protect your skin. Skin Moderne's Phyto-fusion smoothie and other moisturizers are perfect for this third skin care step.
Step 4: Face Mist
Seal everything in with a spritz. Using a face mist helps to maintain your dewy look throughout the day. It can be used as a pick-me-up to refresh your glow and continues to work with the Bio-Placenta product already applied. The Refreshment Spritz makes a great extra protective barrier from the day's elements.  
Step 5: Sunscreen
Always remember to use a product with SPF included or use a separate sunscreen. All of the products you use for the glass skin routine work to nourish and protect your skin, but sunscreen is still a must. The sun's rays will damage your skin and reverse the hard work put into creating a healthier you. 
A Few Notes About Choosing Products:
Choose a product that performs multiple steps in the process. Take a close look at the ingredients. You are looking for ingredients targeting skin cell rejuvenation and collagen expression, as well as ingredients that provide moisture and nutrients to the skin.
Choose clean skincare. Mainstream products usually include desiccants. These will dry out your skin and defeat the purpose of using them. Not to mention the toxins and carcinogens often included in skincare are harmful to the delicate areas of your face. 
Plan ahead before you invest in cleansers, serums, and moisturizers. Take time to understand your skin type and its needs, then buy accordingly.
At Skin Moderne, we understand the importance of quality clean products that benefit you and your skin. We provide the most innovative products and technology skin care has to offer. With us, achieving healthy, beautiful skin is within your grasp. Visit our website, and find out more about our products today.