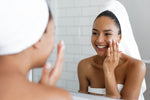 Clean Skincare: What is It and How to Choose The Right Products For Your Skin
Clean skincare can be tricky to define. It's a newer term in the beauty space and means different things to different people. 
The U.S. government has not yet taken steps to regulate what's "clean" skincare and what's not, so some companies are taking the initiative to make clean beauty products themselves.  
What does clean skincare entail, and how can you choose the best products for your skin? Let's take a look. 
What Is Clean Skincare? 
Broadly speaking, clean skincare is free of toxic ingredients. For this reason, it is also sometimes called non-toxic skincare. Clean beauty products are made of plant-based ingredients or safe synthetics. They avoid artificial fragrances, with the possible exception of safe essential oils. 
If you use "regular" or non-clean skincare, you may wonder what the big deal is. After all, the amounts of chemicals in each product are small. However, even small amounts of toxic chemicals can have devastating effects over time. Some chemicals in regular skincare have been linked to causing cancer or hormone disorders. They can also be harsher on your skin, resulting in premature aging.
Some people have a preconception that clean beauty products are less effective than regular ones. However, the opposite is true. Because clean beauty is a cutting-edge field, a high-quality clean skincare company will have a robust research and development wing. 
Clean skincare companies are constantly studying the benefits of new natural ingredients and skin therapies, all while ensuring that your health is protected.
How Can I Be Sure My Skincare Is Actually Clean? 
Unfortunately, this is a trickier question than it should be. Because "clean beauty" is still not legally defined in the United States, a company can advertise their products as being clean, or some percentage clean, when this is not the case.
If the company whose products you are evaluating has relationships with clean beauty research organizations like the Environment Working Group - Skin Deep Cosmetics Database (EWG) and National Institutes of Environmental Health Science (NIEHS), this is a good sign that it is committed to putting its money where its mouth is. 
Still, it falls to you to double-check that a skincare line is really non-toxic. Study the ingredient lists of each product you are considering buying. If the primary active ingredients come from plants, you're on the right track. 
The full ingredient list should be equally easy to read. Chemical compounds are present in all skincare products, so if you see these on a product you're considering purchasing, don't panic. They may well be harmless, but a quick internet search will help you be sure. 
Because clean skincare doesn't contain any toxic chemicals, it will not contain the fragrances you're probably used to. Remember, this is a good thing. It means you're protecting your skin and your overall health.

How Do I Choose the Best Clean Skincare Products for Me? 
Switching to clean skincare might feel like a big shift. Luckily, the process of choosing the products that are best for your individual skin is the same in clean beauty as in regular beauty. 
Start by deciding what you'd like to change about your skin. Are you acne-prone? Do you have skin dryness? Perhaps you'd like to minimize signs of skin aging or to even out your skin tone.
A good skincare website will group products based on these goals. Before you buy a product, read its specific description to ensure that it does what you want it to. If the product is most effective when paired with additional products from the same line, consider buying those as well.
Choosing the best clean beauty products for you can seem like a lot of work at first. But by following these guidelines, you'll be sure to achieve your best and healthiest skin ever. 
Are you looking to start a clean skincare routine? At Skin Moderne, we can help! We offer the most innovative products and technology in skincare. Reach out to us!