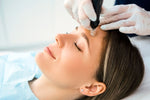 Is NanoFusion (Micro-channeling) Safe for Sensitive Skin Types?
Sensitive skin is more than just an easily irritated skin type. True, certain environmental factors can cause redness, itchiness, or breakouts, but sensitive skin can run deeper. Rosacea, eczema, or allergic dermatitis also leaves skin sensitive and tender to treatments. No matter what sensitive skin you may have on your hands – or face – it is important to work closely with your skin care specialist to balance, care for, and revitalize sensitive skin, without triggering any uncomfortable or painful irritation. Right now, NanoFusion treatments are leading the way as a safe and effective way to have a spa-level treatment, without sensitive skin flare ups.
Sensitive Skin 101
Sensitive skin is highly reactive, with a low tolerance for cosmetics, personal care products, or harsh environments. Common triggers can be found in soaps, detergents, perfumes, and skincare products, to name a few. Even certain elemental conditions can trigger a rash, breakout, itching, flaking, or even irritation. For example, prolonged exposure to cold, sun, and strong wind can irritate sensitive skin. 
The wrong products can turn one blemish or pimple into a full-scale breakout, as skin will work double-time to produce oils to combat any harsh chemicals, stringent ingredients, or strong alcohols present in the product. When treating sensitive skin, it is not only important to work closely with your esthetician, but with your doctor or dermatologist, as well. This means extra homework, but it also means protecting and nourishing your skin appropriately so you can avoid these pesky triggers.
NanoFusion Can Help
Along with identifying the right product for your skin comes an added burden of sensitive skin: finding the right facial services that can accommodate your sensitive symptoms. If microneedling, microdermabrasion, or chemical peels have left your skin puffy, irritated, and red – or prone to infection – a more non-invasive option could fit the bill. The next time you are with your doctor or skin care specialist, talk to them about NanoFusion treatments. This treatment plays to skin's strength, working with and invigorating skin's natural ability to produce collagen and elastin – without disrupting skin balance and function.
What Is NanoFusion?
NanoFusion is a micro-channeling treatment that takes the invasiveness of needling and the burn from chemical peeling out of the equation. The NanoFusion pen is outfitted with multiple massage settings to invigorate collagen and elastin repair as needed, as well as a tip lined with rounded micro-pyramid points that gently score the surface of the skin – instead of injecting into it. This nano-scoring is deep enough to let nutrient-rich serums seep in, but shallow enough to avoid piercing and alarming sensitive skin.
Combining the right serums with this unique facial pen could be a game-changer for those struggling to find gentle treatment options for sensitive skin. A good example would be pairing a NanoFusion treatment with the PACIFI serum (link), since it targets redness and inflammation, while also respecting skin's natural barrier as essential nutrients soak into the skin.
As always, make sure you consult a professional before using any products or treatments for your skin type. Skincare for sensitive skin can be frustrating, but not impossible to achieve. With the right cosmetic and medical professionals at your back, you can give your skin the relief and pampering it deserves – without those irritating or painful flare-ups and flaking.
If you have sensitive skin and would like to work with leading estheticians on building an effective-yet-gentle skincare routine, visit
Skin Moderne
today. You can find more information on our
NanoFusion
treatments, as well as a line of
serums
perfect for sensitive skin like yours.