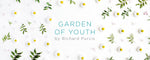 Garden of Youth: How Natural Skin Care Products Keep Your Skin Young
How  the natural skin care products in Skin Monderne's beauty line keep you feeling and looking young...
The explorer Ponce De Leon was misguided. He bet his historic career on discovering a mythical "fountain of youth" and he died trying.  Had he only known the "fountain" is actually a "garden," poor Ponce's story may have ended differently!
It is true, botanicals and their extracts hold the real magic for a youthful appearance. Flower potions are proven to revive, restore, and retain younger skin. Modern technology has produced many amazing, scientifically advanced products but nothing rivals the power of flowers and a natural skin care routine – the authentic Garden of Youth.
Natural, healthy, derivatives from plants provide the basis for many important skin care products. Consider the value of the following 'common' flowers:
Chamomile Flowers
Chamomile flowers are members of the Asteraceae family of plants. Chamomile plants produce white flowers with yellow centers. They are used as the source for the herb "Chamomile" an, antioxidant, mild astringent, and healing agent. According to significant scientific studies, chamomile flavonoids and essential oils have the ability to penetrate into the deeper layers of the skin. They inhibit damaging enzyme activity and provide a potent anti-inflammatory for many skin conditions.
Cornflowers
Cornflowers are pretty blue darlings and annual flowering plants. Cornflowers are also members of the Asteraceae plant family. In the personal care product industry cornflowers are distilled for astringents and skin conditioners. Cornflowers are rich in polyphenols, flavonoids, and anthocyanins all of which work to protect the skin from free radical damage.
Arnica Blooms
Arnica blooms have yellow or orange petals with a distinct "eye" or center. There are several varieties of arnica all containing various healing properties. Herbalists often refer to arnica as the "super-healer" of plants. The dried flowers are harvested to use in skin ointments to treat bruises, swelling, contusions, and pain. Arnica contains high levels of the flavonoids quercetin, rutin, and apigenin all powerful antioxidants that heal and protect the skin from environmental toxins.
Roses
Roses are easily the most recognizable and beloved flowers in the world. Roses are widely used to add fragrance to cosmetics. They are also important conditioning agents delivering antioxidant properties. Rose extracts are proven to cleanse and tone while boosting the natural regeneration of cells and improving moisture levels.
Lavender
Lavender, another fragrant garden favorite possesses over 150 compounds. It is frequently used for its antiseptic and anti-inflammatory properties. Lavender oil has long been sought to help speed the healing of dry skin, abrasions, cuts, burns, and rashes. Lavender helps normalize the texture of the skin by balancing the production of sebum. Lavender is used as aromatherapy to relieve stress, tension, and to promote relaxation.
Orchids
Orchids appear most fragile but they are fierce protectors of the skin. Orchid extracts hydrate and renews cell production while guarding against environmental stressors. They are known to reduce the appearance of wrinkles and fine lines. The orchid's primary anti-aging properties include the distribution of mucilages, important water-holding capacitors used to deliver essential moisture to all skin types.
Hibiscus
Hibiscus glorious blooms effectively revives the skin. The most potent extract of the hibiscus is anti-aging alpha hydroxy acids (AHAs) and amino acids. Blended in skin care products they exfoliate, tone, firms, hydrate, and protects against premature aging. Used to infuse certain circulation-stimulating powers in anti-cellulite creams, hair shampoos and serums – the youth producing benefits of the hibiscus are priceless.
Modern technology continues to produce many amazing, scientifically advanced products but none rival the effectiveness of flowers – the authentic Garden of Youth.
The best way to introduce beneficial botanical attributes to your skin is by using quality, effective, natural skin care products. Skin Moderne seeks out ingredients that are recognizable and utilizable by the body. We have developed a unique proprietary technology to harvest and process the plant's potent phytonutrients and polyphenols fully intact and active. The process yields higher concentrations to drench skin cells with a plethora of nutrients to feed healthier skin.